EA Data Stolen by Hackers To Be Sold for $28 Million
The FIFA 21 source code and FIFA 22 data have been stolen – and it's all on the market.
It was revealed last night that Electronic Arts have been the victims of a massive data breach. EA has confirmed the attack, with an anonymous user claiming to have 780 GB of data – including source code for FIFA 21 and the FrostBite engine. This has obviously raised concerns among the community, so we're here to answer the most important questions.
Scoop: games giant EA hacked. Hackers say they have 780GB of data, including source code for FIFA 21 and the Frostbite engine, used in games like Battlefield. EA confirmed breach and the items impacted. Hackers are trying to sell data on underground forums https://t.co/wjERHqOcrc

— Joseph Cox (offline) (@josephfcox) June 10, 2021
Player data is safe
Let's start with the important stuff: if you're a player signed up with any EA companies like Bioware or Origin then you are safe. The hackers weren't after your information, they were only interested in game data. 
Representatives on behalf of EA have said "no player data was accessed, and we have no reason to believe there is any risk to player privacy." — so, all is well. No harm in changing your password though, just to be safe!
How did this happen?
The burning question that comes to mind is 'how?' and there is only speculation at the moment. It could simply be human error, or something more sophisticated and planned.  Whatever the cause, the data is up for sale for $28 million according to the hacker themselves — to put it into perspective, the CEO of EA earns $21 million a year (wow). 
What happens after the code is sold is a complete mystery: but it's safe to say we might see some cheaters in FIFA 22. 
This time it seems to be all about the money, but not all hackers have malicious intentions. Some sell this to a buyer to create mods for future games, or design tools and fan-made content. Sometimes hacks can even be altruistic, trying to preserve code if the company goes under or precious data is lost to the ages.
The hackers who hacked EA have full access to everything on FIFA and it's source code and tools and everything for FIFA22 and are SELLING everything.. This is not gonna end good. 😬 pic.twitter.com/yGwQU7Ya0I

— FUTZone | #FIFA22 News (@FUTZONECENTRAL) June 11, 2021
What was stolen?
According to BleepingComputer who captured the screenshot of the claims, the hackers made off with the following: 
FrostBite game engine source code and debug tools
FIFA 21 matchmaking server code
FIFA 22 API keys and SDK & debug tools
Debug tools, SDK, and API keys
Proprietary EA games frameworks
XBOX and SONY private SDK & API key
XB PS and EA pfx and crt with key
To you and me, that means they stole a lot of the valuable data that is used to build a game – including for the upcoming FIFA 22.  That means someone rich is about to get their hands on the software development kit for the new game and we could see some FIFA 22 leaks in the future. Plus, it leaves the game vulnerable to cheaters and hacks once it comes out.
We might also see leaks for other games from Bioware or Origin — both who have  big games on the way (Dragon Age and Battlefield). Although neither the hacker nor EA have confirmed if any data for these games  was taken, it may be something to look out for.
Here's the hackers' alleged sales packet: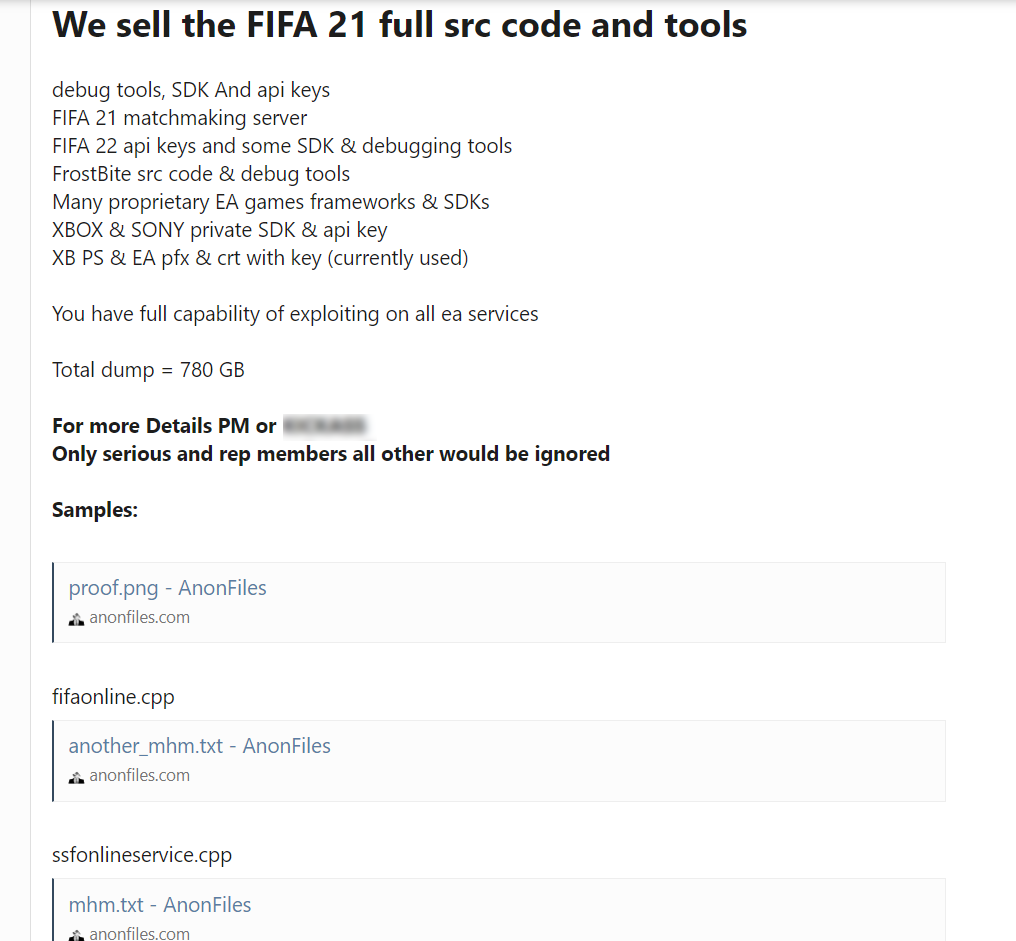 What now?
This is still a developing story: we do know that EA has confirmed that this is an ongoing criminal investigation and they are working with law enforcement — let's hope we see some results soon!
We may see some more FIFA 22 leaks down the line, but for now we're keeping our ears to the ground and changing our passwords.
This is what
we play for.
Play your favourite video games
for real money and prizes.